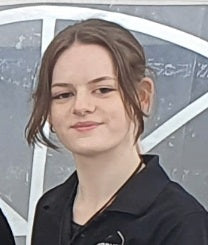 After finishing High School Alana studied advertising and graphic design and wanted to design T-shirts and skateboards for top street brands.
After a brief stint working in the graphic design industry she realised it wasn't for her.
Some friends told her about an airbrush shop that painted artwork on to t-shirts located in Eastland Shopping Centre, Alana approached the owner (Hayley) with a sketch book of drawings and designs but Hayley told Alana that she would prefer someone with airbrush experience.
Alana decided to do a Airbrush course to learn how to use the art tool properly.
Taking the Level 1 Airbrush course by Daniel Power, turned out to be a pivotal point for Alana's future. At the time Daniel was seeking someone with retail experience to help operate their Airbrush Supply store. During this time while also working casually for Hayley, Alana developed her airbrushing skills and gained invaluable knowledge and insight in to the Airbrush Industry.
In 2011 Alana started Airbrush Planet – with the support of her family and friends she was able to build a successful business.
Airbrush Planet joined the Dandenong Market in 2013 allowing Alana to reach new customers, as the Airbrush Planet stall is very visual, many people often stopped by just to watch.
With product demand comes growth, Alana was too busy to do it all on her own and partnered up with Hayley to establish Airbrush Co.
Together they have been able to build a team of artist and expand the business beyond Alana's dreams... with lots more to come!
Alana fells very fortunate that she has a successful business that allows her to create artwork that amaze people and to work alongside other talented and inspiring artists.